GATEWAY CONSULTING SINGAPORE & TAIPEI MEDICAL UNIVERSITY JOINT COURSE

Registration is closed.
Next course:
19, 20, 21 March 2018
With effect from 1 April 2017, the Essentials of Health Informatics Course will be jointly offered by Gateway Consulting and the College of Medical Science & Technology, Taipei Medical University.  Under this collaboration, the course will taught by Dr KC Lun of Gateway Consulting and the Certificate of Attainment will be awarded by the College of Medical Science & Technology, TMU.
For further enquiries, please call 6463 8687 or email admin@gatewaypl.com
This course is endorsed by IMDA for CITREP+ 2017.
THE IMDA CITREP+ FUNDING IS NOW EXTENDED TO INCLUDE SINGAPORE PERMANENT RESIDENTS (SPRs).  PLEASE REFER TO FUNDING TABLE BELOW: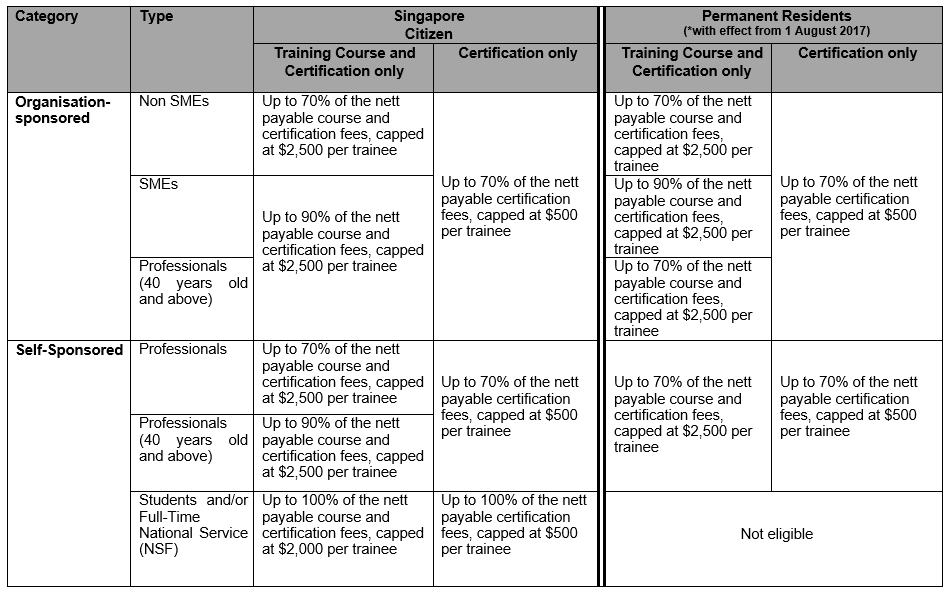 * Definition of SME: • Annual Sales turnover of not more than S$100 million OR • Employment size of not more than 200 workers
FOR DETAILS PLEASE CHECK HERE
In addition, Singapore citizens who are self-sponsored can also use all or part of their S$500 Skills Future Credit to further offset their course fee payment (terms apply).
For other Gateway Consulting Courses, please visit www.gatewaypl.com
5 VERY GOOD REASONS TO TAKE THIS COURSE:
(especially if you are new to IT in Healthcare or planning a career in health informatics)
(1)

 You get to learn the key elements of health informatics in 3 days;
(2)

 Your course tutor is a retired NUS professor who has over 30 years of experience in health informatics and had served as President of the International Medical Informatics Association from 2001-04;
(3a)

 If you are a Singapore citizen, you or your sponsoring organization will be eligible for 70% reimbursement of the Course fee under the IDA CITREP+ programme (terms apply);
(3b)

If you are a Singapore citizen between 17 and 25 years and currently pursuing full-time, post-secondary course leading to NITEC, Higher NITEC, Diploma and up to 1st Degree in Post Secondary Educational Institutes (PSEIs) in Singapore OR a full-time NSman, you will be eligible for 100% reimbursement of the Course fee under the IDA CITREP+ programme (terms apply);
(4)

You get to learn from the experience of 2 local health informatics experts who will share with you their experience with implementing local healthcare IT projects in the Case Studies;
(5)

Upon successful completion of the 3-day course, you will be awarded a Certificate of Attainment by Taipei Medical University.  In addition, completing this course will qualify successful participants for free credit hours for post-graduate courses in health informatic offered by the College of Medical Science & Technology, Taipei Medical University.
Comments from Participants in our recent EHI Courses:
Course 3 – 7-9 June 2017 (not all participants gave written comments; there were NO negative comments)
Prof is great in showing examples and experience to allow me to understand the materials better

Helps to build a better understanding of health informatics

Prof has shown extensive knowledge on this topic; interesting to learn from him

Lectures are interesting; instructor is knowledgeable

(Good) Use of video and other tools to enhance learning

Prof Lun has a very strong understanding of the history and also future directions for health informatics
Course 2 – 8,9 & 12 Dec 2016
 INTRODUCTION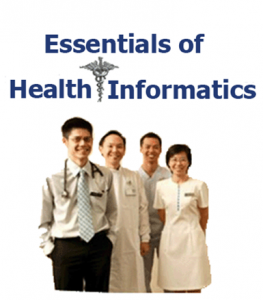 The increasing deployment of Info-Communications Technology (ICT) in healthcare in Singapore and throughout the world has underscored its emergence as a key driver in the modernisation of healthcare services and the delivery of best practice patient care.  At the same time, the growth of the discipline has generated a steady demand for professionals who are skilled in health informatics.  ICT professionals with technical interests may find new roles in the healthcare ecosystem as applications architects and developers, systems analysts and consultants.  Those with entrepreneurial aspirations may lead the development of applications or systems that will improve healthcare professionals access to and use of information in the provision of service and the delivery of quality patient care.  Healthcare professionals with training in health informatics can assume new roles as medical, nursing, pharmacy or public health informatics specialists to create new visions and solutions to healthcare service and delivery.
The three-day course on Essentials of Health Informatics is aimed at giving participants, especially new entrants to the field of health informatics, a general introduction to the many facets of ICT applications in healthcare.   The lectures will cover the deployment of ICT systems in healthcare settings, decision-making in patient care, standards and interoperability issues, patient data privacy and security and other challenges associated with ICT implementation in the healthcare enterprise.  In addition to the lectures by Dr KC Lun, a pioneer in Health Informatics in Singapore and in Asia, several local health informatics practitioners with project implementation experience will be invited to share their experiences with Course participants in the two Case Study sessions.  There will also be a Course Project, comprising three 90-minute sessions, in which the participants will work in teams on a project in health informatics (e.g. "Mobile Devices and their Impact on Healthcare Today") and give a plenary presentation at the end of the 3-day Course.
Learning Objectives and Outcomes
The Essentials of Health Informatics Course will enable participants to:
Learn how ICT systems impact healthcare practice, delivery and outcomes.
Understand how to develop, implement, manage and evaluate IT solutions to advance healthcare delivery and practice so as to improve patient outcomes.
Appreciate the issues, problems and challenges of deploying ICT solutions in healthcare
Gain insights into career opportunities for health informatics specialists in healthcare settings.
Detailed Objectives and Outcomes
Acquire an overview of the field of health informatics
Understand the use of electronic records in healthcare and distinguish the types of electronic records such as EMR, EHR, PHR.
Understand the importance of applying messaging, terminology standards, vocabularies and concept representation to achieve interoperability
Understand the meaningful use of EHR with emphasis on patient safety, healthcare quality, decision support, CPOE, closed looped systems and digital health information exchange
Understand EHR implementation especially in relation to the National Electronic Health Record Initiative (NEHRI)
Understand the importance and need for privacy, confidentiality and security of health data and steps needed to ensure them
Understand the role and importance of telemedicine in healthcare including definitions, uses, barriers and evaluation of efficacy and governance
Understand the barriers, issues and challenges with implementing ICT systems in healthcare settings with special reference to the Singapore context (from the 2 Case Studies presented by guest lecturers)
Acquire awareness of new trends and technologies in health informatics and their impact on the healthcare industry (from the Course Project)
Target Audience
IT professionals working or interested in working in healthcare;
Clinical, medical, nursing and other healthcare-related professionals interested in applications of ICT in healthcare;
IT industry business leaders and managers dealing with ICT systems and solutions in healthcare;
Senior administrators and policy makers involved in organizations transformation initiatives in ICT systems in healthcare;
Research scientists working on IT-based, healthcare-related projects;
Individuals interested in career opportunities in health informatics.
Course Trainer for the Essentials of Health Informatics Course
Dr KC Lun is CEO of Gateway Consulting and a retired NUS, NTU and Duke-NUS professor with over 40 years of teaching experience at university levels.  His last academic appointment was Professorial Fellow (Health Informatics) in the Dept of Information Systems, NUS (until 31 Dec 2014).   He is a pioneer of medical informatics in Asia.  Since presenting his first scientific paper at MEDINFO 86 in Washington DC, his accomplishments in the field include hosting the financially successful World Congress of Health and Medical Informatics, MEDINFO 89 in Singapore in 1989, chairing the Editorial Committee for MEDINFO 92 in Geneva, founding the Asia Pacific Association for Medical Informatics (APAMI) in 1994 and assuming the IMIA Presidency in 2001. 
His track record is available at this URL:   www.gatewaypl.com/gw/lun
For details on Course fee and enrolment, please see Registration
Home | Syllabus | Timetable | Project | Tutor | Registration | Student&NSmen | About CITREP+  | Venue | EHI-brochure