GATEWAY CONSULTING SINGAPORE

CITREP+ supports local ICT professionals in keeping pace with technology shifts through continuous and proactive training. Through continuous up-skilling, fresh professionals and mid-career professionals may acquire or enhance technical skills sets which will enable them to remain relevant and productive in their careers. To build a strong core of specialised Singaporean ICT professionals with Smart Nation capabilities, CITREP+ is now expanded to support entry-level professionals since 2010 to build specialised ICT skills through broad-based training courses and certifications. IMDA will work with training providers to curate and offer quality infocomm professional development technology courses and professional certifications that impart knowledge and skills in relevant areas.
CITREP+ funding support details are given in the following table: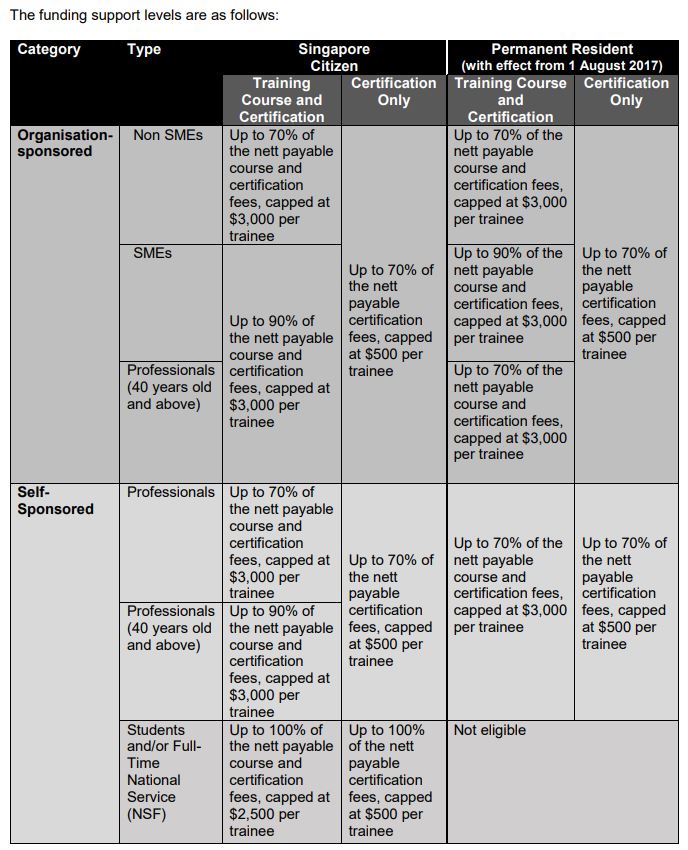 For more details on CITREP+ funding support for Professionals aged 40 and above/students/NSF/SMEs, please refer to the CITREP+ Claim Application Guide.
Note: The CITREP+ funding does not support GST, VAT, registration and membership fees, rebates, incentives, discounts or any training grants offered by the Course Providers or any other organisations in relation to the endorsed courses and certification.
Definition of SME:  companies having minimum 30% local shareholding AND Company Group annual sales turnover not more than $100 million OR Company Group employment size not more than 200 workers.
NOTE:  Upon the completion of a CITREP+ supported course, Gateway Consulting will notify course participants (if self-sponsored) or their supporting organizations (if company-sponsored) details on how to claim for course fee reimbursement from IMDA, together with supporting documents.