In October 2016, Gateway Consulting celebrated its 10 years of achievements (play video)
Gateway Consulting (Singapore) was established by Dr KC Lun in October 2006 when he retired from Nanyang Technological University after a rewarding career in academia that spanned nearly 40 years.
Dr Lun had served as an academic staff of the NUS Faculty of Medicine for 26 years (from 1975-2001) holding academic and research positions as Associate Professor in the Dept of Community, Occupational and Family Medicine, Director of the NUS Medical Informatics Research Program (funded by the National Science & Technology Board – now A*STAR) and Director of the World Health Organization (W.H.O.) Collaborating Centre for Health Informatics at NUS.
In 2001, Dr Lun joined the Nanyang Technological University to help the university establish its School of Biological Sciences, serving as Professor and founding Vice-Dean (Academic) from 2001-2006 and NTU Dean of Admissions in 2005.   In 2011, he returned to the National University of Singapore to help the NUS Dept of Information Systems at the School of Computing to establish its Centre for Health Informatics and concurrently held the appointment of Professorial Fellow (Health Informatics) at NUS.   He retired from NUS on 31 December 2014 to run Gateway Consulting full-time.
The core business of Gateway Consulting is to offer consultancy and niche training in areas of Dr Lun's professional expertise.  These are health informatics (including data analytics), biostatistics, research methods, epidemiology and medical demography.   Since 2009, Gateway Consulting has been collaborating with Oregon Health and Science University (OHSU), USA and the American Medical Informatics Association (AMIA) to bring the highly-branded AMIA 10×10 certificate training course by distance-learning to Asia.
In recognition of his many contributions to health informatics nationally and internationally, Dr KC Lun was bestowed the  prestigious "Excellence for Singapore Award" in 2002.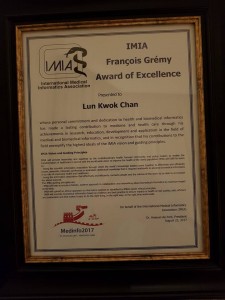 On 22 August 2017, Dr KC Lun was conferred the IMIA François Grémy Award of Excellence for 2017.  The award is the highest international recognition for health informatics, established by the International Medical Informatics Association in 2004, to honour "an individual whose personal commitment and dedication to medical informatics has made a lasting contribution to medicine and healthcare through her or his achievements in research, education, development or application in the field of medical informatics".
For further information on Dr KC Lun, please click here
For Chinese version of Gateway Consulting  (中文版)  please click here